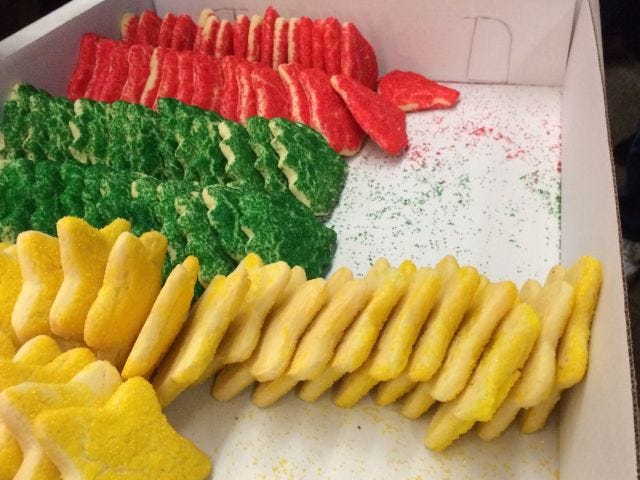 My neighborhood had its annual Christmas kickoff last night.

The high school band marched for about three blocks, just long enough for the "here we come" cadence and one Christmas tune as they turned the corner. Young people sang in front of the YMCA. Carolers from a fairly new local church sang in front of the Center of Bellevue, a former church building that now holds various cooperative efforts of several churches. A snow machine blew soap bubble clumps on us as we went in and out of the basement to check out the market of local vendors — potters, herbalists, a soap maker, a hot sauce purveyor, matcha people, two bakers and some other booths I don't remember.

I chatted with the Breezy Ridge Acres beekeeper about why some honeys are darker than others. The dark ones come from early in the summer, he said, when all kinds of things are blooming. The lightest ones come from the fall, when there's not much besides goldenrod for the bees to pollinate. If you have fall allergies, he said, the light honey is the thing for it.

Normally I like both the look and the more complex flavor of darker honey, but I chose a bottle of the light. I do have fall allergies, but that's not why. It's because I thought about the bees, maybe having to fly farther and look harder to find pollen to collect. I felt a little sorrow for them, and also admiration. Maybe I felt a twinge of disappointment or resistance at the idea of a one-source honey. But it's also a choice of simplicity, even austerity, right? The bees can't help what they can or can't find.

The Finch Naturals soap maker from Moon, Pa., was next to him, and I chatted with her, too, as I sniffed the various soaps. Was there trial and error in learning how to make soap? Oh, yes, she laughed. The "dud" batches — her family uses those. And sometimes things go terribly wrong and it just needs to be tossed.

The mint-avocado smelled the best to me by far, and I was choosing four bars as gifts, but I'd already forgotten the lesson of the bees. Let's see: Haas Heart (mint and avocado), Happy Jack (craft beer and raw pumpkin), Ruby Harvest (spiced chai and coconut milk, a limited edition), and Heirloom Bloom (fragrant rose). She hoped I would enjoy them, she said, and she didn't believe me when I told her that these are all gifts. Reealllly? she asked with an oh-come-on-it'll-be-our-secret-if-you-keep-one smile. Yes, really, I said. Then she seemed touched, and thanked me for choosing her booth for my gift shopping.

Outside, people were lining up for rides in the horse-drawn carriage. Others were queuing at the food trucks — tacos, mac 'n' cheese, pulled pork sandwiches and other festive and comfort fare. The florist was giving away hot chocolate and cookies. (The bells and trees were more popular than the stars; or maybe, as is the way of stars, they were more numerous than everything else.) It was still a while before Santa would arrive, as he did last year, riding a fire truck, and everyone would chant "10-9-8-7-6-5-4-3-2-1!" for the lighting of the tree. But none of my people were out and about. So I stopped at the corner and for cat food and bananas, and went home for tea, a hot bath and a poetry book.

I love my borough's small-town celebrations, and the ways people turn out for them — families pushing strollers or towing little red wagons, roving bands of teens, older couples holding hands, and soloists. And I love these nights of light and warmth at the beginning of a dark and cold season, something communities all over the world are doing and have done in their own ways for centuries.

My favorite part of the evening, though, was during the errand that began my evening walk. I'd gotten a nice paycheck in the mail and had walked to the bank to deposit it. Both ATMs were being used, so I stood on the other side of the railing.

A little boy watched me while his mother did her banking and checked on the littler boy in a stroller. "Are you waiting for your turn?" he asked me.

"I am!"

"My name is —" he started, then probably remembered what someone had told him about talking to strangers. But I think he didn't want me to wait alone. And it's not always wrong to talk to strangers, not with Mom right there, not on a night like this.

"Merry Christmas!"

Thank you. Merry Christmas to you too, little boy.