Notes From an Urban Cabin #25 | Winter Boxes
I'm choosing not to renew some of my magazine subscriptions. I feel a little sheepish admitting that. (Will it earn me a "poor conduct" mark on my literary citizenship report card?) But besides wanting both to pare expenses and to decrease the nonperishable physical objects and paper coming into the cabin, I just can't keep up with reading everything. I'll attend to some of those unread issues in their neat pile under the coffee table. Then I'll go without for a while and see what I miss.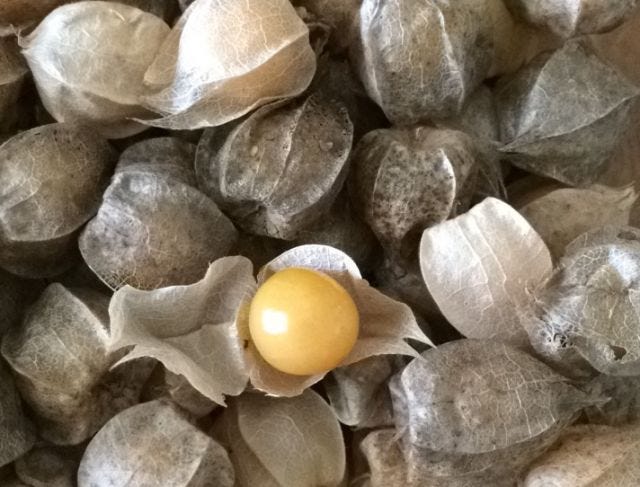 Today I signed up for another kind of subscription — the Winter CSA box from Penn's Corner Farm Alliance, my local growers' co-op. I got their Peak Season box for nine weeks through last summer and early fall. It was my first experience with community-supported agriculture, and I was pleased with the quality and variety of the produce. Over those nine weeks, I had many kinds of summer and winter squash (including something called stripetti); kale, Savoy cabbage and other greens; red and yellow onions, leeks, shallots, and garlic; a variety of peppers; golden beets, ground cherries, tomatoes, eggplant, cucumbers, corn; cantaloupe, a tiny watermelon, peaches, pears, plums, and several varieties of apples; and probably some things I'm forgetting. (There was only one thing I couldn't eat: hot peppers, which came with warnings in both words ("HOT!") and pictures (a sticker of cartoon flames). I nibbled, and learned truth in advertising.)

While it was a "Small Share," intended for one person, it was plenty for me. Some of the bounty ended up on the table of friends I often eat dinner with. Twice when I was out of town, someone who works near the pickup site was happy to take it home and share it with her roommates. (They even sent me photos.)

There's no "small box" option in the winter, but deliveries are biweekly, and many of the items will have longer shelf life, so I am hoping that each box will supply most of my fresh food needs for two weeks. Here's the description: "The Winter CSA boxes are larger than regular season shares since many of the items can be stored longer. You can expect produce such as potatoes, hydroponic lettuce, radishes, beets, winter squash, apples, onions, cabbage, and more, as well as other items like organic grains, honey, cheese, and eggs." There are also vegan and gluten-free boxes.

When the days grow shorter, darker and colder, for some of us (maybe most of us), it brings increased risk of the blues. (I was surprised last year at a winter gathering of women, most of them much younger than I, to learn that many of us had been prescribed vitamin D.) Having something to look forward to always helps. And having a reason to get out helps, too. I am looking forward to picking up my Winter Box, a biweekly cornucopia, every other Wednesday starting next week. And I'm glad to have given myself the gift of getting out and driving along the river to my chosen pickup location (dangerously close to a beautiful library, several good coffee/tea shops, a toy store, an independent bookstore (especially dangerous), a French cafe and other clean-well-lighted places) on a day when I might otherwise not leave the cabin.

The something-to-look-forward-to list is often rich this time of year. A taste:
Thanksgiving and Friendsgiving dinners

spending a few laughter-rich days with family visiting from out of town

putting up our aunt's Christmas tree

going to a new-to-me coffee and tea house with a friend for the latest steeping in our roughly bimonthly never-ending conversation (is this our seventh or eighth?)

a sort of fancy Christmas party (dress-up time!)

a Messiah sing-along

a trip to see beloveds in a warmer clime
And then a new semester will start, teaching a new-to-me course at Pitt. And with the last day of pickup on the first day of spring, those winter-box care packages will keep me busy in my tiny kitchen almost into April.

A confession: I did bring an unnecessary object into the cabin this week, another sort of winter box. It's not like me to buy mass-produced things with inspirational words on them (not that there's anything wrong with that). But for almost a year "joy" has been a recurring blip on my radar, a woodpecker on a tree in the back of my mind, a ... what's the right metaphor? I don't know. I'm not sure what joy is, but if it were a vitamin, I'd suspect a deficiency. So last year in an after-Christmas sale, I bought cheap wooden letters, J O Y, and painted them white and set them in an east-facing window. On Sunday, at a big-box craft store on a shopping quest for two different kinds of cushion foam, I saw many items with a few popular words. BELIEVE. PEACE. HOPE. MERRY. And — guess what? JOY.

Joy on tree ornaments, pillows, wall hangings, tea towels, potholders (I nearly bought that one, but it came tethered to a joyless oven mitt). And joy on a simple wood and tin item, shaped like — what? a cross between a manger and a privy? It was $2.69 on sale.

So through this coming gray season, on some nights, whether I have guests or it's just me, on the floating shelf in my bathroom, between the evergreenery of two small phalaenopsis orchids, in front of the votive holder, this tiny winter box will remind me, there's a light in the darkness.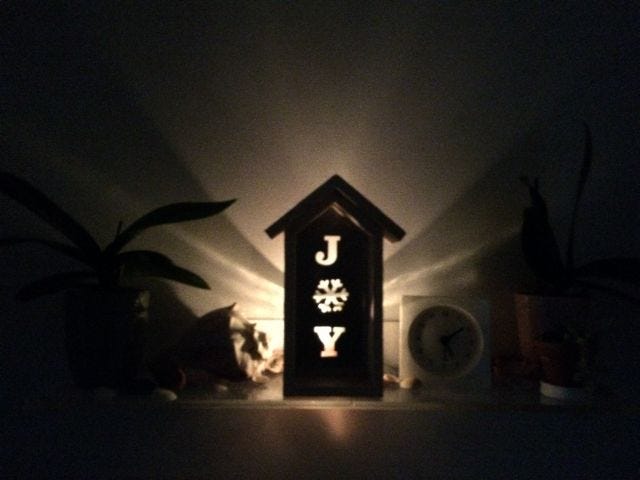 I intended to say more about literary citizenship, but this has gotten long (what famous dead writer apologized in a letter for not having time to make it shorter? Pascal? Thoreau? Twain? Woodrow Wilson?). Maybe I'll take it up next time; maybe I will have forgotten it. In any case (which is the kind of oft-read, within-lazy-reach phrase I often tell my students not to touch), the cabin is well stocked for old-fashioned wintertime literary citizenship.

Books. Paper. Pencils. Keyboard. Electricity. Tea. Blankets. Read. Write. Repeat.

I just finished Jayber Crow by Wendell Berry. Loved it. Wept through the last chapter. Then I zipped through The Great Divorce by C.S. Lewis. I'm going to give The Lord of the Rings another try. Maybe this will be the winter I finish The Brothers Karamazov, or Lydia Davis's translation of Madame Bovary (don't judge it by its cover), or Kristin Lavransdatter. Also some nonfiction. And much poetry, starting with Christian Wiman's anthology Joy: 100 Poems.

What are you looking forward to? What are your winter boxes? (Light therapy, anyone?) What Everest of a book do you want to scale this winter? And above all (or beneath all, or through all), what gives you joy?

As always, thank you for reading. Stay warm.

Peace,
Laura

P.S. Next time, remind me to tell you about a new local volunteer opportunity: mug librarian.