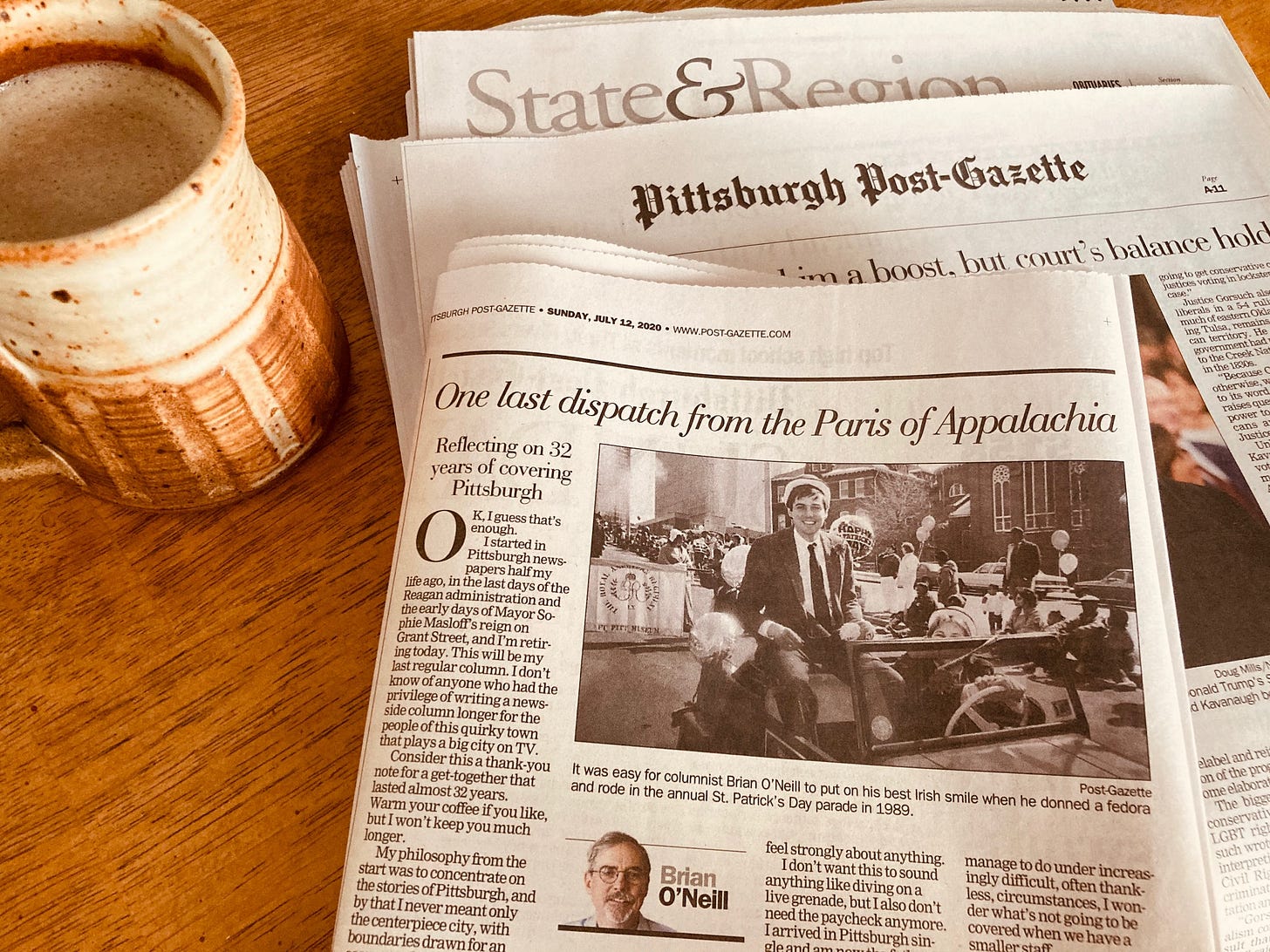 When I opened the Post-Gazette Sunday morning, I wanted to call my great-aunt.
"Don't be alarmed, but are you sitting down?" I would have asked, in my playful voice, so she'd know it wasn't that kind of bad news. "Have you seen Brian O'Neill's column yet?"
There it was on page A2, his spot for decades. He was taking a buyout and retiring before 65. This was his final column. And suddenly I was no longer alone in my dining nook, but at the round kitchen table in her Crafton duplex, which she left in 2012.
There we were at breakfast. Each of us eating cereal (frosted mini wheats for her, Honey Nut Cheerios for me) with half a shared banana. OJ in amber juice glasses with shafts of wheat. Her coffee and my tea in earth-toned mugs she collected from local potters and on trips out West. Oilcoth tablecloth. A lazy susan holding paper napkins, sugar bowl, salt and pepper, pens and pencils, her pills, and a well-worn crossword dictionary.
She'd have the sports section queued up, and I'd be reading Arts & Leisure. She might read me something out of Brian O'Neill's column, or pass me the A section when she was done with it, neatly folded to frame his words, tapping it twice with a manicured index finger and telling me, "This is a good one."
Never mind that she died exactly a year and a half ago. Never mind that she stopped reading newspapers months, maybe a year, before that. As I absorbed the details and read his graceful words expressing nothing but gratitude for a career at a paper that many locals have found reason to criticize lately, a teary feeling of mild grief welled in me. I wanted her. The one who analyzed his home runs and strikeouts (she did disagree with him sometimes) as astutely as she discussed the Pirates' or Steelers' performance. Who sent me his columns years ago when I was beginning my own newspaper career. Who would both lament and praise along with me. Look, he took a golden parachute just like you did, I'd say, only his probably wasn't as golden.
Is there a name, perhaps in another language, for that impulse to call a dead loved one? To tell something only they would find funny, ask what they remember about a shared event, wish for that baked pork chops and rice recipe? What to do with that impulse? Sometimes we can call someone else who will get it. Sometimes we go ahead and talk to the missing person. People in Japan have a phone booth for that. Sometimes, when we really want to tell someone, we write about it. Often, though, there's just the longing.
It's hard to say what all ache in the chest was for. The loss of one more thing I enjoyed in the paper I still receive on Sundays … The decline of newspapers everywhere ... Farewells to dozens of people who left or were let go from the one where I spent 20 years editing and writing … The grace of O'Neill's exit, reminding me of the late Charlie Allbright's classy final Arkansas Traveler column years before … My great-aunt's decline and her absence ... The erosions of this year ...
I shook my head. Went to the kitchen for a coffee refill. Set down the smooth brown Starbucks mug I'd been using and found one of hers. And gave thanks for all those mornings, years' worth, in her sunny yellow kitchen.
He had a good run, I imagined her saying, ever able to find an optimistic blessing. Yep, I said. And tapped the folded page twice with a garden-dirt-edged finger. And went out for a long Sunday morning walk among the living.